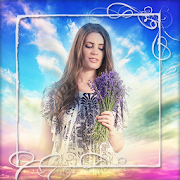 Magic Photo Frames
Mita and Mina Photo Studio
Photography
com.MagicPhotoFramesmmhd
● Magic Photo Frames● is the cutest photo editing app. It is made for all of you who believe in magic and want to bring a magical note to your pictures. This is the right moment to change your photos by adding some cool picture frames. Download "Magic Photo Frames" as soon as possible and put amazing photo frames to all your pictures. Choose a photo from your phone gallery or take a picture with your camera; it's all up to you! Then put it in one of these magic picture frames and your photo framing fun can start. Use many different photo effects and photo filters to improve your impression!

☻ Decorate photos with beautiful photo effects, photo stickers & borders!
☻ Frame photo with stylish photo frame editor!
☻ Many personalized photo frames of different shape and style!
☻ Choose your favorite photo frame design!
☻ Select photo from phone gallery and put image in a picture frame!
☻ Zoom, rotate, scale and crop images to fit the frame!
☻ Have fun with picture framing!
☻ Create fantastic framed art with picture frames for free!
☻ Set framed pictures as background wallpaper or screen saver!
☻ Share your pics on Facebook, Twitter or Instagram!
☻ Enjoy in photo editing with lovely photo frames!
☻ Beautify your selfie pics with pretty frames for photos!
☻ Download great picture editing app for Android™ mobile or tablet device!
☻ Edit photos and enjoy in photo framing!

Do you believe in magic and fairy tales? Do you want to be surrounded by it all the time? If yes, then download ● Magic Photo Frames● and your magic trip can start. These photo frames all inspired by magical symbols, magical colors and fairy tales. You can frame your pictures in the best possible way. As soon as you download this picture editing app for free, you will have so much fun and you will get many personalized photo frames of different shapes and designs. You can use oval photo frames, circle photo frames, square photo frames or even heart photo frames. They will all bring magic to your life.

If you like fairy tales and you want to make your children happy, just download ● Magic Photo Frames● and you will get great "photo frames" inspired with fairy tale characters, small fairies and magical forests. Put the photos of your children in these magical "picture frames" and they will adore them.

Get ● Magic Photo Frames● and have a magic glitter on your pictures. This photo framing app allows you to make the most beautiful frame art, but also to save it on your phone so that you can later use your framed photos as wallpaper or screensaver. You can also zoom, rotate or crop your pictures so that they can fit your favorite magic "photo frame".
● Magic Photo Frames● is waiting for you in the app store. Download it for free as soon as possible and have the best "photo editor" inspired with magic for your Android™ device and tablet device. Enjoy the activities of photo framing and "photo editing". Do not miss this unique opportunity to surround yourself with magic and to have fun with magical photo frames.

*Android™ is a trademark of Google Inc.
minesweeper
mobile legends
mobile legends
mobile legends
mobile legends
Mobile Legends
mobile legends
monster legends
monster legends
Monster legends
monster legends rpg
my talking tom
my talking tom
my talking tom
Alphabetical
Genres